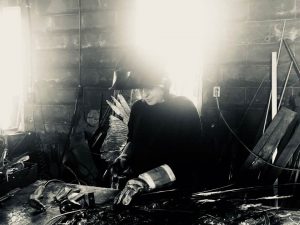 Marie-Josée Roy is born in 1968 in Trois-Rivières, Québec.
In 1992 she finalized her B.A.C.C. In Fine Arts at the Université du Québec in Trois-Rivières. She then studied to get a diploma in general welding in 1997 to enrich her knowledge. Afterwards she worked in a forge in Trois-Rivières where she learned other technics in metal transformation that she adapted to her sculptures. Since then she still studies in a variety of formations, in bronze and aluminum casting, at the smelting works school of Trois-Rivières.
It has been more than 30 years now, and metal is still draining its power of attraction on her.
Her paintings on steel, aluminum or copper, dealing with pictures, oil inking, engraving…..
Her metallic sculptures, forged, welded or cast…
This medium became alive through her own hands.
The artist outlines a parallel between the magnetic, resilient, bright, fusional properties of metal and human relationships that could be related to these properties.
Her expression is physical, and not only because working with metal relies on physical strenght: she's physical, period. However, not a final one. On the contrary. It opens a strong chapter on her personality and the natural built-in of her expression. Affective naïvety and humility drained to the image with a poetic, feminine, intense and tightened to the womb signature.
The artist has to her credit exhibitions in Toronto, New York, Québec, Boston, in Europe, Australia and the United States, and a numerous number of cities all across Canada. She is sponsored by many gallery and is a member of the RAAV.